Shah Alam, 16 February 2023 – 60 hawkers from Hulu Langat, Selangor joined the latest session of the Selangor Micro Hawkers Development Training Programme held on 27 January to gain digitalisation skills organised by Platform Selangor (PLATS).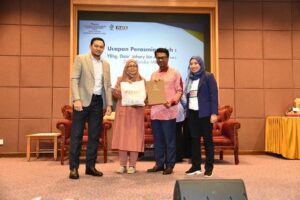 A total of 708 hawkers from across Selangor's 12 districts have been trained about the impact of digitalisation on the economy by Platform Selangor (PLATS) since August 2022.
PLATS is an initiative of Permodalan Negeri Selangor Berhad (PNSB) and Menteri Besar Selangor Incorporated (MBI), and arranging the training is a proactive step by the state to help citizens elevate their business through a digital community platform. It aims to mobilise the merchants, hawkers and grocers.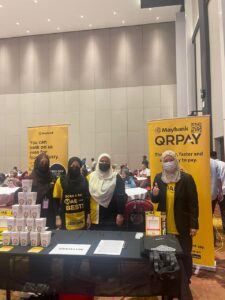 The half-day long training – typically conducted with local partners including Maybank, OCBC and the Employees Provident Fund (EPF) – counsels these vendors about the benefits of digitalisation to their business.
To date, it has benefited individuals from the Selangor Micro Hawker Development Training Programme from Kuala Selangor (80), Subang Jaya (100), 109 individuals from the Kajang programme, and 177 people from the Shah Alam branch. All individuals have received certificates from PLATS to help boost their business.
In its most recent session, around 50 people from the Kuala Langat Micro Hawker Development Training Programme were involved. In the near future, more trainings will be held in Majlis Perbandaran Klang (MPK), Majlis Bandaraya Petaling Jaya (MBPJ) and Majlis Perbandaran Selayang (MPS)
"PLATS helps provide a platform for these individuals to grow and move towards the digital world. In doing so, we are confident that these merchants, hawkers and grocers can be more sustainable in the future," said Y.M. Raja Ahmad Shahrir Iskandar bin Raja Salim, Chief Executive Officer of PNSB.
He adds that the training programme serves as a foundation for these small business owners to learn – hard skills as well as soft skills – and is the best avenue for them to raise questions in their quest to gain clearer knowledge about digitalisation.
PLATS' training comprises topics of managing social media accounts, basic editing of social media posts, management process of online orders, adaptation of Cashless Transactions, basic digitalisation of business, and an introduction to PLATS. There are 12 sections during training and attendees gain awareness and information on their journey towards the modernisation of the economy.
Y.M. Raja Ahmad Shahrir Iskandar emphasised that PLATS prioritises the growth of merchants and grocers in the state. In future, he said, the programme targets to improve its website: to make it easier and more convenient for merchants and users, as well as trainers and speakers for the training.